Start Here To Building And Living The Passive Income Lifestyle
Hello there! My name is Nigel, and I'm the owner and creator of NigelChua.com. If you're new to the world of passive income lifestyle from:
It is my hope that NigelChua.com contains the information you need to get up to speed quickly and start your own passive income portfolios safely confidently.
(If you hadn't already, sign up to be part of the passive income community here and read my Ultimate Passive Income Lifestyle Blueprint (Framework). That's the fundamental framework of why+how I build and live a passive income lifestyle.)
You know what, this Passive Income Lifestyle – it's not a walk in a park or a bed of roses…it's catchy, sexy and everyone looks for it but it's not easy.
It is a lot of hard work.
The reason for it is because it takes time, from months to years. You see, success doesn't happen overnight, but I do know that having a good mentor who has done what you'd like to do can definitely help get you in the right direction – and that's why I'm here.
I'm here mainly to guide, not through commands and hype or false information, but rather through example, honesty, and transparency.
Let's start at the very beginning:
Passive Income Lifestyle: The NigelChua.com Definition
In order to build reliable passive income streams, we must first understand exactly what the term passive income really means.
Definitions vary.
In my experience, what most individuals crave—and what I focus on here at NigelChua.com—is:
#1 Making Money Online By Building Ethical, Sustainable And Profitable Online Businesses That Delivers Value To Customers

Building online businesses that take advantage of systems of automation that allow transactions, cash flow, and growth to happen without requiring a real-time presence.
#2 Dividend Stock Investing

Gradually learning to identify and accumulate investments that are stable, within my budget and provides stable passive income.
In other words, what we aim is to not trade time for money – instead, we Passive Income Lifestylers invest our time, effort and resources upfront to either build valuable products and experiences for our customers AND/OR accumulate stable investments that pay stable passive income over time.
We work and hustle hard now to continually reap the benefits later.
The NigelChua.com Passive Income Lifestyle Model

#1 Making Money Online Ethically And Sustainably
A Online Business model behaves in this simplified approach:
You have something valuable that customers want. This can be the form of physical (books, shoes etc) or digital products (e-books, e-reports, audio, training etc) which your readers are looking for.


Let's use an example if you carry the rights to a specific e-book and you list it on your website and write the description of the benefits of the book and how it'd help the readers.


People will visit your website from different traffic channels, maybe from Search Engines such as Google, Yahoo, Bing; or maybe from your friend who referred them after reading the book; or from a link from another site – so the visitors who visit your site and saw the e-book that you have listed on the site, and they get interested in the book and they want to buy it.


And when they click on the button to buy it, they are taken through a payment processor and when they complete the payment, the payment processor will automatically and immediately send the e-book to them via a link in an email to download the e-book.


At the same time, the payment processor will also send the money or commission that's due to you, straight to you.
And when you look at the process above, you realize that you're at the receiving money end of the processes, and you weren't involved in actively talking to the reader, guiding them through the product, delivering the product or even taking payment from the customer – all you did was to put in the effort first to build a good website, build or license good products to sell, and you're good to go.
This is my foundation of my profitable Passive Income Internet Businesses as well as everything I teach here on NigelChua.com.
If you've read the 4-Hour Work Week by Tim Ferriss, this will be familiar to you – that book (as well as Rich Dad Poor Dad) dramatically inspired how I run my businesses.
#2 passive income Investing (PII)

Every month, I get rental income; and At fixed intervals throughout the year, I get dividends from my dividend stocks – I don't have to actively look for tenants or anything – every dividend dollar is wired straight to my bank account.
Truly the MOST passive form of income.

Dividend Stock Investing (PII) is a skill that I learnt as a byproduct of being an entrepreneur, where I had to learn how to value decisions – what decisions I need to take to achieve a certain outcome etc, and a conscious decision to learn Passive Income Investing, so that I can gradually grow my Passive Income Investments portfolio with a set budget allocated to it.
My Passive Income Investing (PII) Portfolio comprises of
80% Dividend Stock (low barrier to entry, need to research on individual public companies to purchase)
20% Cryptocurrency

Land Banking (middle barrier to entry, less research than real estate or dividend stock, medium term)
Real Estate (much higher barrier to entry, lots of research required before purchase)
You do not need a lot of money to start your Passive Income Investing Portfolio, because there are so many different passive income investment options, and the most affordable approach I would recommend is investing in dividend stocks (also known as income stocks) or index funds.
One can easily start Dividend Investing for as low as $3 a share – so the barrier to Dividend Investing is really low (though I'll recommend to buy in batches of at least $1000 to make the effort and brokerage fees worth the investing).
Update 9th September 2016:
I am selling my real estate investments, and am veering/leaning heavier on dividend stock investing, because it's more tax-friendly, less hassle and overall much better yield and suited to my temperaments and lifestyle preferences.
Update 21st October 2017
We have successfully secured the sale of our real estate investment, and we clocked some capital losses there which is offset by the rental yield of 2 years plus, as well as favorable exchange rates.
In mid 2017, I sold off all my dividend stocks to lock in a 25% capital gains and dividends, but am looking to re-enter positions in dividend stocks.
Early October 2017, I explored the world of cryptocurrencies and blockchain investing, and have taken some positions there - covered in Cryptocurrency Investing
Update 31st December 2017:
I have re-entered positions in stable, defensive dividend stocks again because I missed the easy recurring dividend income (as you can see in the passive income reports). 
Over time, I will gradually and consistently increase my positions and quantums in dividend stocks; my minimum goal being the amount of dividends is more than enough to cover monthly expenses and luxuries.
Update 2018:
I am back into positions in stable and defensive dividend stocks and will continue to build and grow my portfolio as much as I can.

What Passive Income Is Not
Let's do some myth-busting and set some realistic expectations before we go deeper.
1. Generating passive income is NOT easy and it takes a lot of hard work.
First of all, nothing in life is easy. Making passive income is the same – not easy. There are many internet marketers, bankers, and business owners who will try to tell you that it's all a walk in the park.
And you know why?
It's simple – they'd like to make money from lies and false hopes. I'm no guru, but I've built a 7-figure business from ground up – I rolled up my sleeves, and work my ass up, treat my people right, and I'm here to tell you the truth:
Building a Passive Income Lifestyle is hard.
I will do my best to guide you and give you all the information you need, but I can't force you to take action that you need to take to progress – that's entirely up to you.
2. Generating passive income does NOT happen overnight.
I've mentioned above that I built a 7-figure business from scratch with my wife, support from loved ones, lots of support of awesome team, and even with that, it took us 6 years plus to reach there.
That is why I believe in the talent of hard work, perseverance, and delivering great value, again and again, refining and doing better.
Get Rich Quick schemes are lies and fantasy, and I don't live them.
In retrospect, all the efforts, pain, and time we put in has paid off, and we're no longer in the rat race and having to keep working to keep living – I want to keep making my own luck happen.
You can do it too.
3. Generating passive income is possible.
Passive Income was a far-fetched notion to me until 2012 for my physical business, and that's when I decided that I was more valuable as a business owner working ON the business to grow it as compared to being a worker working IN the business, and the business grew and grew ever since I made that move.
When that happened, I started thinking and experimenting in Passive Income Internet Businesses (PIIB) and Passive Income Investing (PII) and started seeing passive income slowly trickle into our bank accounts.
I still go to my workplace to give consults and help out, but I get to be at important events with my family, work when I want to, and make my own decisions.
The Passive Income Lifestyle is possible, and I want you to experience it too.
Types of Passive Income: What to Expect
Here in NigelChua.com, there are two main types of passive income, based on the core business models that we have:
Making Money Online

The Online Business model is based on an active and recurring passive income model – I am required to set up these online businesses, keep delivering good value to readers and customers, refine business-related aspects such as websites, content etc.
But customers tend to be recurring, hence the active and recurring passive income model.
Dividend Stock Investing (DSI)
To me, Dividend Stock Investing (DSI) are the true passive recurring income model – once I invest into the company once, as long as I stay invested and as long as the company pays dividends, the dividends will be wired into my bank account, hands free.
BUT that's the reason why one has to do ample research first into the public companies that they want to invest into – you'd need to find out about the company, the industry, the dividend payout etc.
It's a bit of work upfront, but if you get it right – you'd be paid well, for years to come. At this point of writing, as I'm still young (born in 1982 – 33 years old in year 2015) – every dollar of my dividends are reinvested back into my Passive Income Investing Portfolio.
I will do this until I achieve my goal of $100,000.00 per year dividends (in practicable terms, if an average ROI is 5%, I will need $2 million dollars invested to get the $100K per annum dividends).
Domain and Hosting Strategy
A website is an essential part of any profitable passive income business done online.
There are a few free options like Blogger, Tumblr, or WordPress.com. Those are great options for some, but I don't recommend that path for two important reasons:
When you use a free service, your domain name will almost always be an "extra" extension to the service provider's own domain.

For example, if I created NigelChua.com on free WordPress, the web address would be http://nigelchua.wordpress.com instead of https://www.nigelchua.com.


You have fewer customization options for design, functionality, and revenue.

For example, I know that with free WordPress.com sites, you are limited to using only certain plugins, and you aren't even allowed to advertise.
These two reasons alone are exactly why I recommend going with a self-hosted website. You have more control, it looks more professional, and you can truly call it your own.
My RECOMMENDED Get Started On Building Your Passive Income Lifestyle Course…
Since 2008 I've done a lot of research and collected a lot of data and spoke to hundreds if not thousands of individuals starting their own Passive Income Lifestyle journey, and I understand how excited, scared and nervous that you feel, all at the same time.
I also know that sometimes you're not exactly sure what to do first.
Before you start going full steam ahead, I'd love the opportunity to share with you some of the exclusive content and instruction for those of you who wants to build your Passive Income Lifestyle in a safer, more structured and systematic way.
So whenever I share with someone about WA, I almost always start by saying that it's not a money-making-scheme, it's not an easy passive way to becoming rich and neither is it a pyramid scam.
So what is Wealthy Affiliate?
Wealthy Affiliate University is first and foremost an online business community as well as a marketing centre.
Please, if you think you will start minting/making/printing money by simply joining WA - think again, OR just walk away - it doesn't work that way.
This is likely the biggest difference between Wealthy Affiliate and all the other make money online programs - WA doesn't sell hype and false promises; WA doesn't promise to make you rich with a few clicks or overnight, and they definitely don't promise you a shortcut to overnight thousands of dollars.
And I'm glad for that.
They instead promise to teach, train, educate, support and show you how to build your online business.
If you are willing to start, learn, refine, grow and run a successful business, please keep reading the my full Wealthy Affiliate review here, or visit Wealthy Affiliate directly.

Solo Build It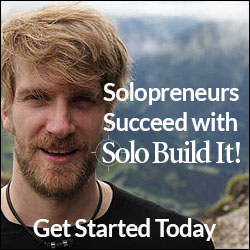 Previously known as Site Build It (SBI), it was rebranded/renamed to Solo Build It (SBI) in January 2017. They have a very useful and powerful Action Guide (AG) that taught me step by step; and a supportive forum.
I've been using SBI since 2008, and I've been very happy with my SBI-powered physiotherapy site generating 6-figures revenue attracting clients online.
Solo Build It Versus Self Hosted WordPress
If you're comparing between SBI and WordPress, read my article with my conclusions between these two.
I've been using both since 2008/2009.
I Appreciate You!
I just wanted to finish by saying that I'm here for you, not only as a guide while you begin or continue your Passive Income Lifestyle journey but also as a friend.
I do my best to respond to all emails (it's getting tougher as this blog gains in popularity, but I will always do my best to respond!). I love to think that I'm special…just like every one of you are.
I just work hard, work smart, preservere and do my best to make my family, friends and followers' lives better.
Thank you so much for your support. And if you've made it this far, I'd love for you to come say hi to me on my personal Facebook Page.
I'll definitely respond, and I look forward to meeting you! Cheers!
Talk soon!
Nigel
Where to next?
Wealthy affiliate: #1 to learn how to build profitable wordpress online businesses


Wealthy Affiliate is my recommended for WordPress online businesses.

I've been a premium member of Wealthy Affiliate since 2015 and there are a number of pros to be with them, which you can read at my Wealthy Affiliate review here.

One of my favorite points of WA is that they have a try-before-you-buy forever-free membership which you can sign up here for free. No credit card needed.


solo build it (sbi): #1 for

offline businesses

local search engine ranking, traffic and lead generation




Solo Build It (SBI) is my #1 tool for local search engine optimization (SEO) domination as well for online marketing which I've been using since 2010 personally for multiple projects.

Read why I chose Solo Build It...

...and more importantly, why I still stay with Solo Build It (SBI) till today and use them exclusively for all my SEO, traffic and e-lead generation.
Back To Top